Hello World (and Hello Big Bad Con!)
October 22, 2018
Well this is exciting. After my very first Big Bad Con last weekend, it feels time to gather some sticks, pitch a tent, and kindle a tiny little spot on the internet to talk about storytelling games… including the one I'm actually rather far along in making: THE ZONE.
First of all.
THANK YOU to the wonderful people of Big Bad Con, to everyone who playtested THE ZONE. Stephanie, Aaron, Jonathan, Dani, Peter, Tom, Rick, David & David, Adrian, Chris—you are all master storytellers, lovely humans, and I so appreciated your thoughtful critique and ideas! The game is already better because of you all.
I learned so much, but I'll focus on one big thing: staging.
I'd underestimated the importance of props in creating the necessary atmosphere, but a few days before BBC I undertook a last minute flurry of semi-random purchasing on Amazon, which led to some very fun experiments: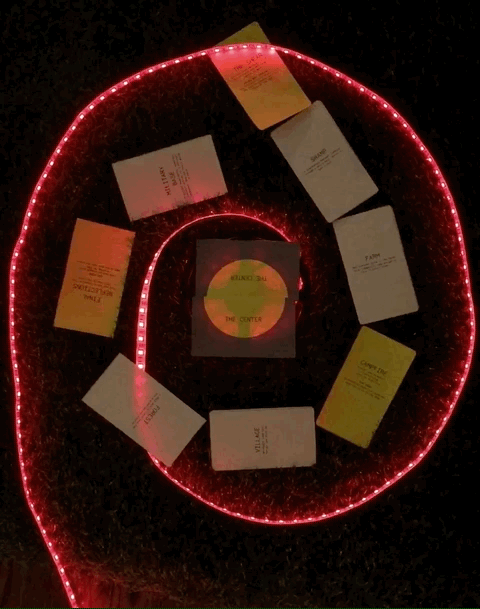 The materials around the game can help set the tone faster, making it easier for players to get into the right frame of mind. Although some of the experiments were a bit too "busy".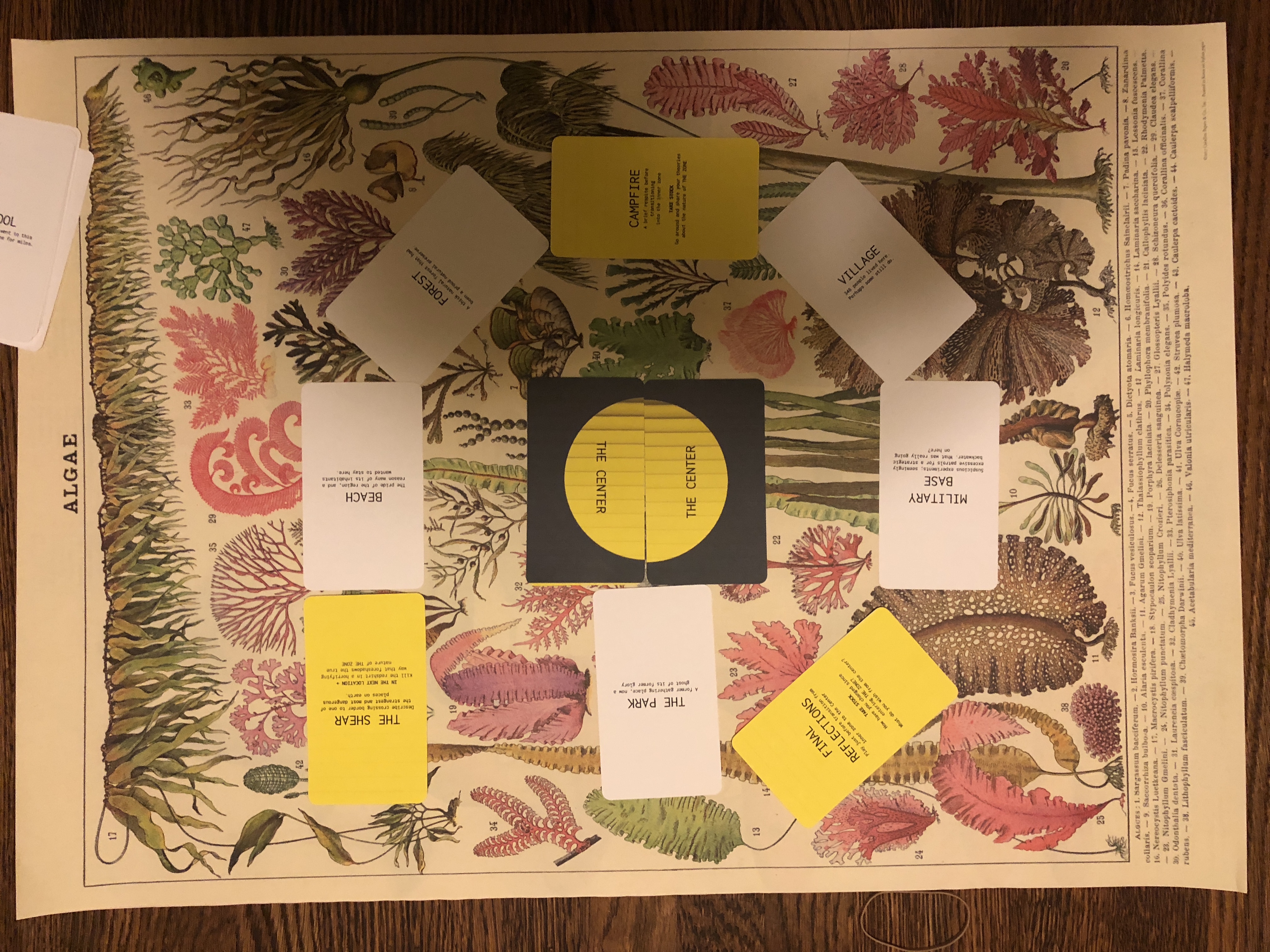 It was important to embody the game's main principle: "Campfire Stories. Controlling the lighting to create a sense of isolation and creepiness really helped.
Credit to @nickpunt for coming up with the brilliant (ha) idea of playing the game with only a flashlight for illumination. This was thematically strong, but also crucial for the usability of the game because it helped people read cards in the dim light and made crystal clear whose turn it was.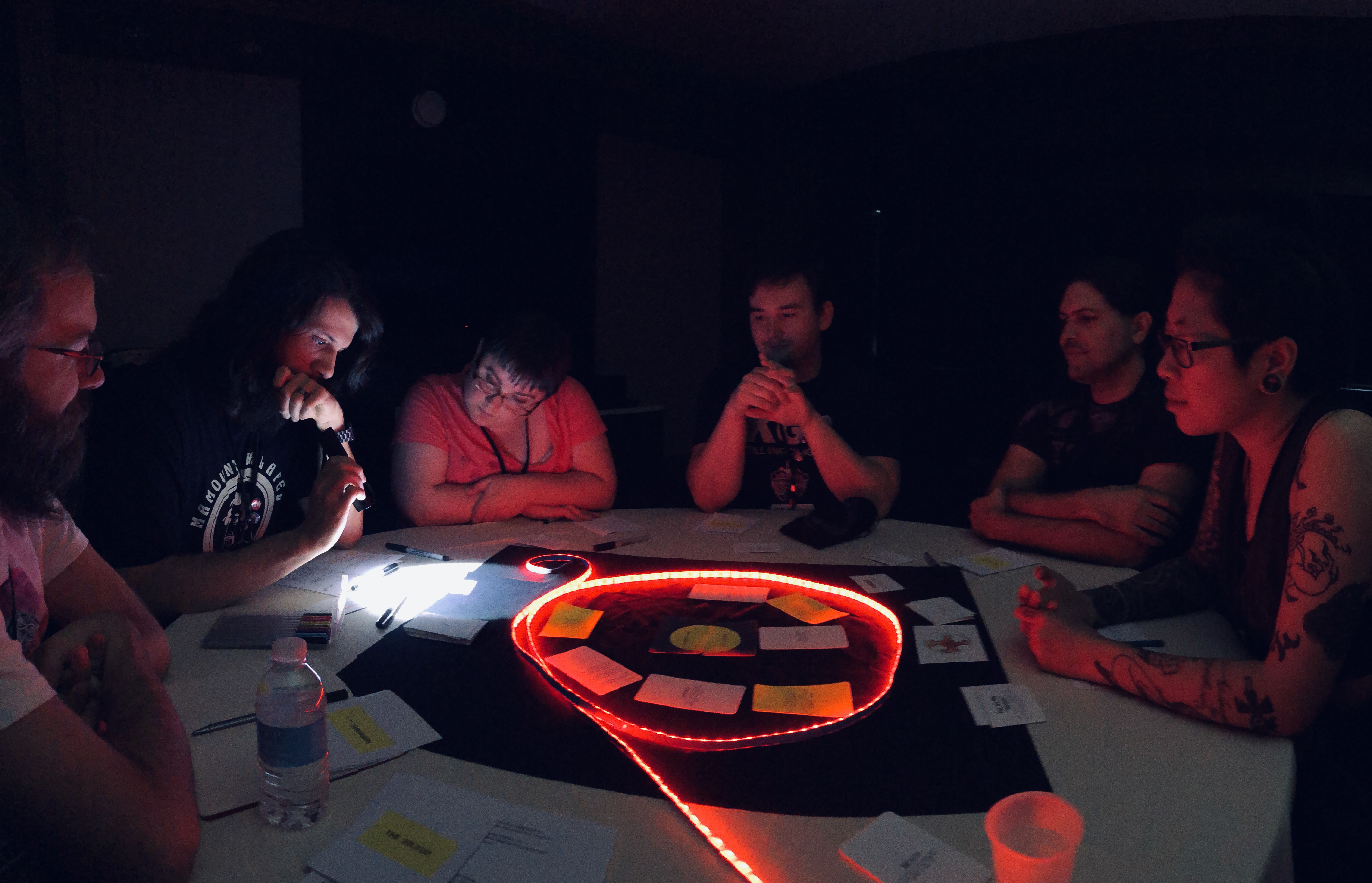 And when you're looking at the photos above—here's a key data point: it was 11am. 11AM, and a bright 86 degree California day outside, complete with rolling hills, blue sky, and a busy highway right outside the window of the Walnut Creek Marriott. Staging the game was crucial to transporting people away from that world, and into one of mutation, loss of humanity, and psychological horror.
So much kudos to Big Bad Con for giving all the games appropriate spaces to work in. (I'm sure the time will come where I'll run THE ZONE in a loud convention with 300 other people in the room…)
Oh, and after hearing so much about it I just bought Stephen Dewey's game / OG case study in how to do this (10 Candles). So excited to play it and be reduced to gibbering bolus of lonely terror! 😱
(Other recommendations welcome!)