The tabletop storygame of magical realism, mutant weirdness, and collaborative self-destruction
Gameplay
3-6 players choose characters, co-create the locations, and together tell the story of their journey to the center of THE ZONE. Over 2-3 hours you will describe the wonders and horrors found inside, the grisly (or sublime) fates of all but one of your characters, and the ultimate nature of THE ZONE itself.
Kickstarting in 2020
Sign up for updates!
This is a GM-less storytelling game, so players collaboratively share the load, with a philosophy of "play to lose" where "winning" means telling the best tragic story.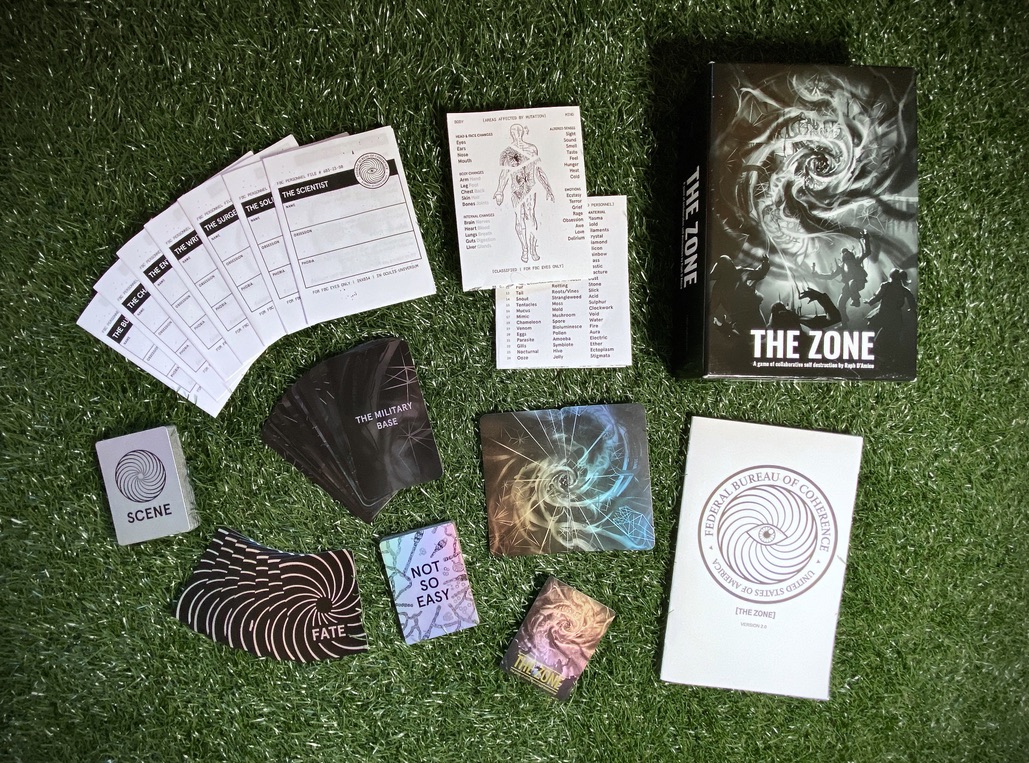 The vibe is hanging out with friends around a campfire, trying to creep each other out with the darkest and most uncanny stories you can think of…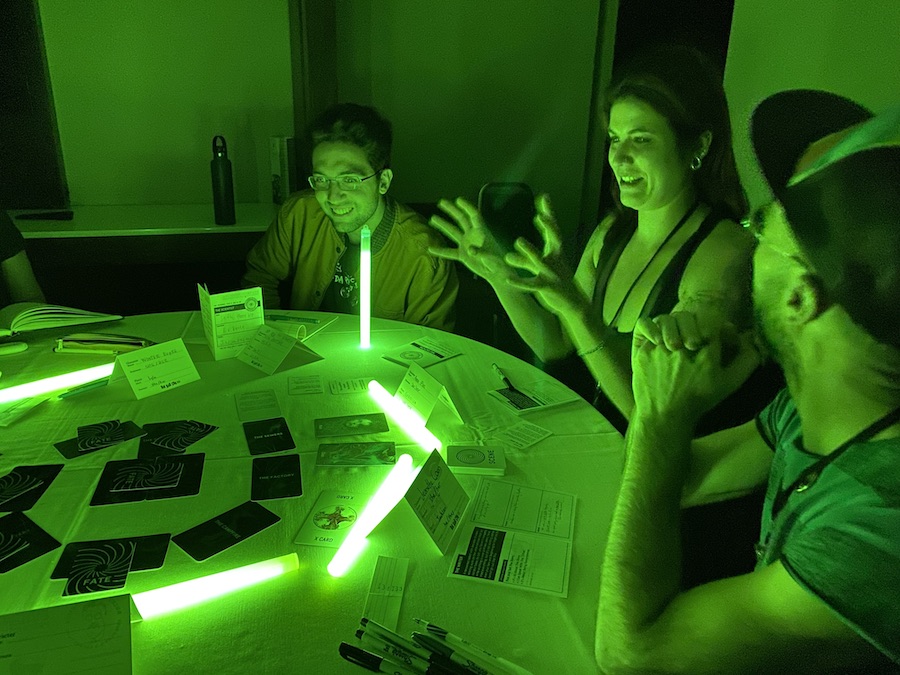 What the game is like to play
The journey into THE ZONE is represented by a spiral of Location cards
Players take turns narrating the story, with 50+ Scene card as prompts
Players each have a character with a strong Motivation, Phobia, and Temptation, whose Fate is decided at the start (when they die, players become THE ZONE)
There are no stats or dice rolls. When a player wants to do something difficult, they resolve it by drawing a "Not So Easy" card (a hack of Archipelago)
At the end, the surviving player will ask The Center to grant their wish… and players will together create the way this doesn't go quite as planned
These aspects make the game lighter weight than most roleplaying games, while still providing enough structure to make storytelling approachable for anyone.
The Zone has gone through extensive playtesting and is coming soon…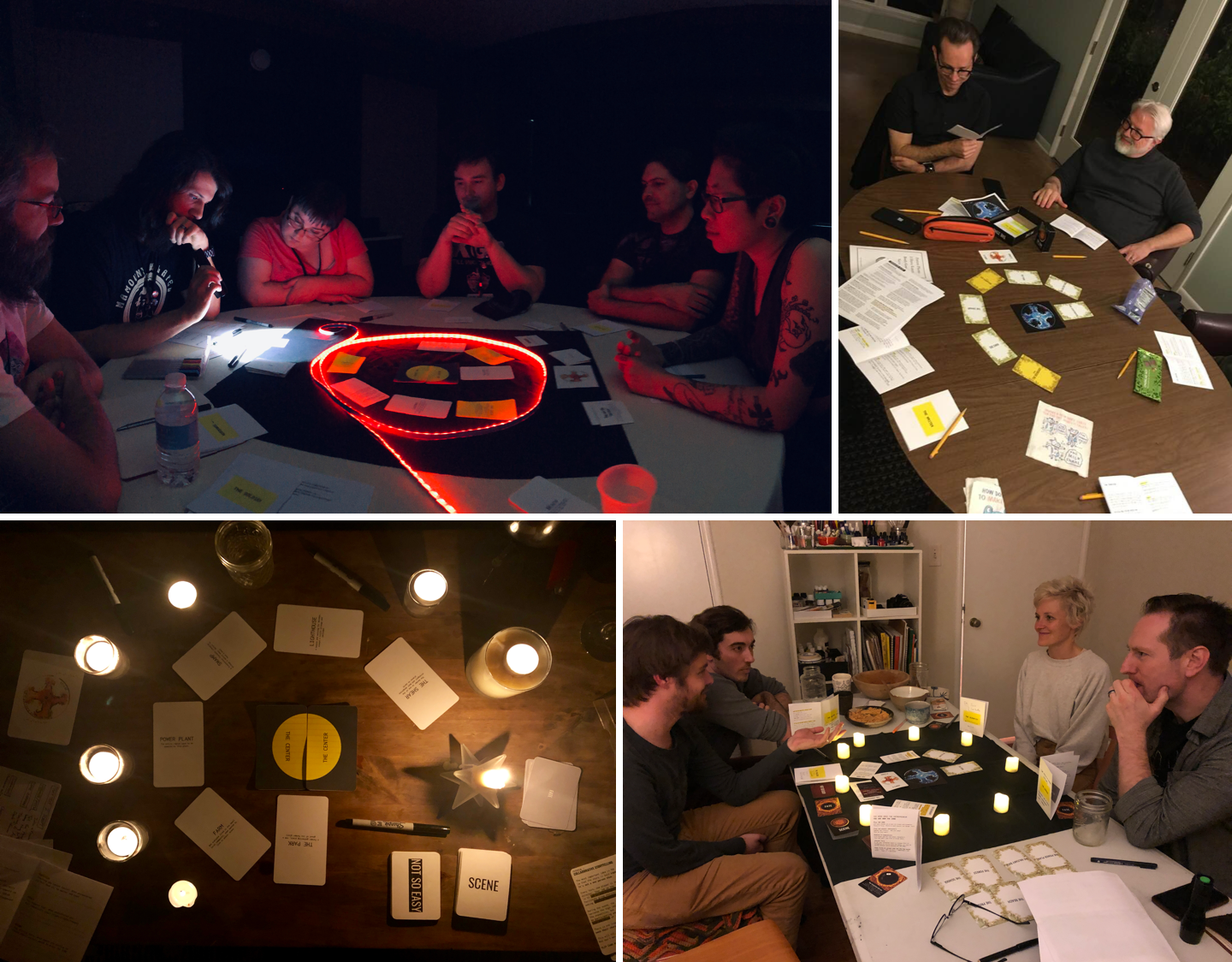 Themes
Campfire stories
Adventurous journeys
Uncanny things beyond human comprehension
Self-destruction, mutation, and loss of humanity
Playing to lose
Inspiration
THE ZONE is inspired by classic books and movies like Jeff VanderMeer's novel Annihilation, Arkady and Boris Strugatsky's novel Roadside Picnic, Andrei Tarkovsky's film Stalker, the S.T.A.L.K.E.R. series of games, H.P. Lovecraft's short story "The Color Out Of Space", and every horror game where a group of unlucky souls go into a place they can't possibly understand and end up picked off one by one. 😉
Get updates on THE ZONE
Don't miss the Kickstarter
BLOG